---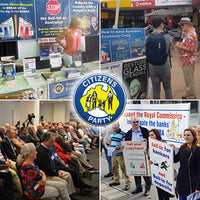 Your support makes the difference
IMPORTANT: Donations can only be accepted from Australian Citizens or those who live permanently in Australia.
Donations up to a total $1,500 for a financial year are tax deductible.

For everything we do and achieve, we need the support of the people. It is citizens taking responsibility across this nation that means we can face the powerful opposition from the Big Four banking monopoly and politicians who bow to their money and power.
The flyers, postage to activists, in-depth research, all the costs of activist delegations to elected officials and delegations to Canberra require financial support to carry out. There is also the production costs of our regular video content, The Citizens Report and Citizens Insight.
To continue to hold the government and elected officials to account we do need your help.

Choose an amount to support the Citizens Party's activities and organisers or choose other to add your own amount.